Siren Fitness is a fitness service for women
We believe in fitness without fads or gimmicks. It has to fit in with everyday life, be achievable and sustainable. It has to be accessible to all regardless of experience and level of fitness.
Meet Heather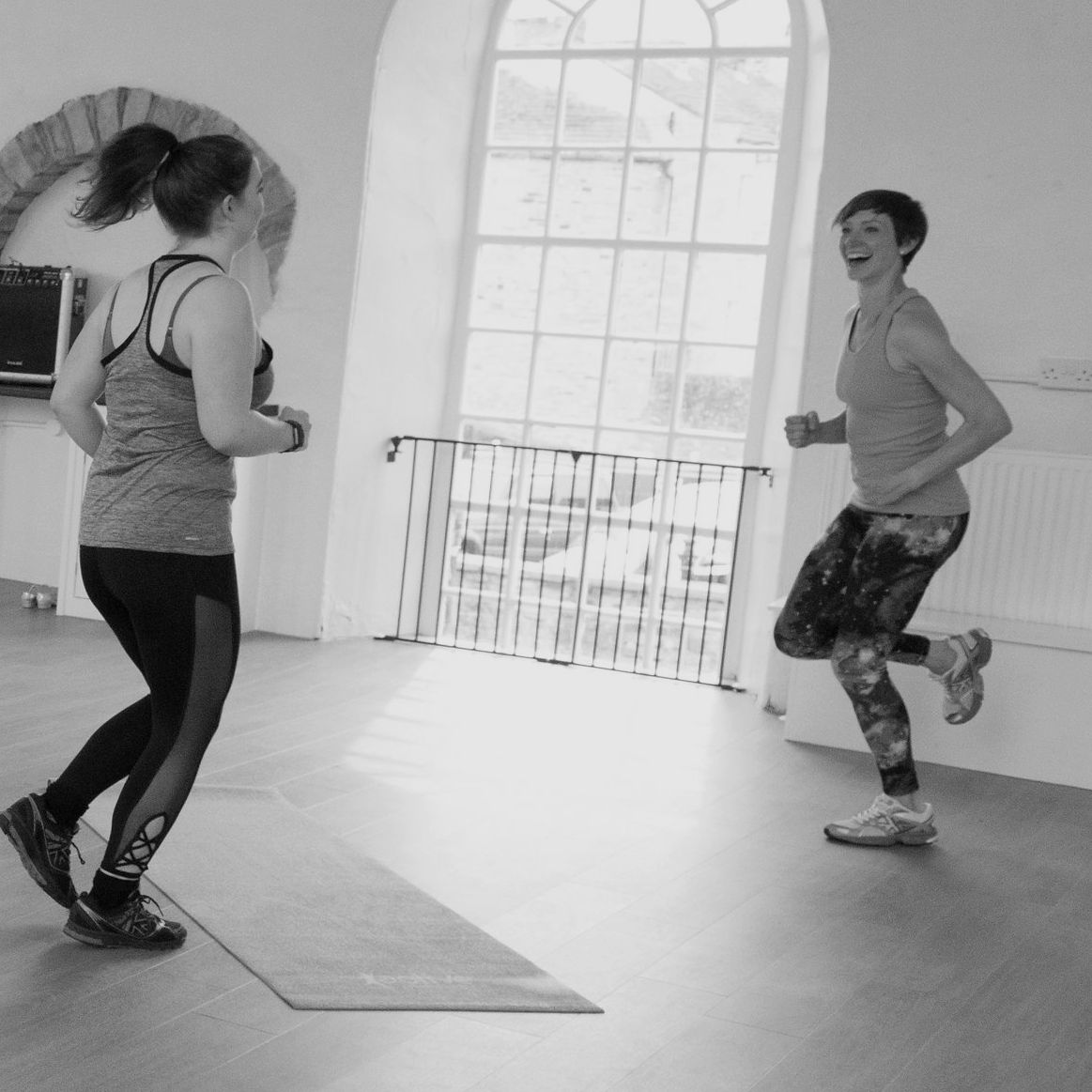 Siren fitness was founded by Heather Bullock. A mum of 3 who knows the struggles of getting fit around a busy family life all too well.
"Fitness has been a big part of my life from my early teenage years when I was training 6 days a week in Classical Ballet at Manchester's Northern Ballet School and I've had to keep my fitness levels right up in my years as a professional dancer.

I went on to teach dance for many years and in that time I've had 3 children. After each one I had to get myself fit again ready for my active job. The only way to do this, is to fit it around family life or it just isn't sustainable.

That's what I help others do, get fit and stay fit. No gimmicks or tricks, just fitness that's fun and achievable….. And that doesn't have to involve the gym or lycra!"
Heather is REPs registered and holds a level 3 in fitness instruction and personal training and specialises in Pre and Post natal exercise and Exercise for older adults.
Get in touch
Email Heather
Call 07814 887071
or Heather can give you a call:
Locations
All Siren Fitness classes are studio based and have a relaxed, friendly atmosphere. Everyone, whatever their level of fitness, can come and exercise and feel comfortable!
Skipton Fitness classes
Fire House Studios
Coach Street
Skipton
BD23 1LQ
Gargrave Fitness classes
Gargrave Primary School
Neville Road
Gargrave
BD23 3RE
Personal training
Siren Fitness offers a personal training service that can be tailored to fit an individual's needs and budget. All Personal Training options start with a consultation to highlight goals and needs so a personal programme can be written for each individual session. Programmes are developed with aspects that can be repeated at home which means you get great value for money and advice on how to incorporate fitness into your everyday life so you get the most from the sessions.
ONE TO ONE SESSIONS
Training in a one to one session means you can pinpoint exactly what it is that you need and want to get out of exercise and a programme is written to help you reach your own personal goals. Having a personal trainer means you improve technique, gain motivation and get the best results possible from the exercises. It also means you get to exercise in private if you are one of the many people who feel self conscious exercising around others, especially if you are new to exercise or experienced a body changing event like having a baby. A great way to build both knowledge and confidence. It also means you can exercise at a time that suits you!
SHARED SESSIONS AND BUDGET OPTIONS
You can share sessions with a friend or small group (max 4) which means you share the cost too! Maybe you can't make any of the exercise classes and want to get together with friends for a small aerobic or exercise class. Or you might want to learn some strengthening exercises and work out together under the supervision of a Personal Trainer to get that technique on point and get the best results possible. You'll get a programme with aspects that are suitable to do by yourself at home in between training sessions so you get quicker results and with advice on how to fit exercise round your everyday lifestyle you can get fit and stay fit.
Costs
£30 per hour (split between participants of group sessions)
Half hour and 45minute sessions available.
Exercise classes
Dance Cardio
A dance-based aerobic work out
Details
No dance experience necessary. Classic tunes old and new and some dance moves to match! This is suitable for beginners with medium levels of daily life activity. A fitness class that is usually full of giggles!
Where
Skipton (Fire House Studios)
Gargrave (Gargrave Primary School)
Deep Core Strengthening
Standing and mat exercises focusing on deep core muscles and posture.
Details
Great for strengthening the pelvic floor and supportive muscles. Suitable for beginners.
Where
Skipton (Fire House Studios)
Gargrave (Gargrave Primary School)
Cost
£5 per person
£3 when combined with Dance Cardio
Clubbercise
A new dance fitness class with easy to follow routines using rave glow sticks.
Details
Choreographed to club anthems from the 90s and the latest chart hits. The classes are taught in dark rooms with disco lights to create a nightclub atmosphere. The workouts are designed with high and low impact options meaning Clubbercise is adaptable to your specific fitness level, meaning anyone can give it a go!
Where
Skipton (Fire House Studios)
Work It Circuit!
A circuit training session in our Skipton fitness studio
Details
Using free weight and body weight exercises, fitness ball and resistance bands combined with some cardio spurts to keep the heart rate up! Loads of variety to keep you on your toes and suitable for all.
Where
Skipton (Fire House Studios)
Over 50s and Over 60s exercise class
Coming soon! A fitness class for those who are celebrating keeping fit in their senior years.
A mixture of lower energy level cardio and strengthening exercises to help keep the body active throughout the later years.
Super sculpt fitball Calm and Classical
A full body toning work out set to classical and piano music
Using exercises from a ballet dancer's body conditioning programme using fitness balls. This will work your arms, body, core and legs in a way that develops long lean muscles. All levels welcome as progressive exercises are used. All done to classical piano music, with views over Skipton canal from our gorgeous fitness studio in Skipton.
Zen Yoga with Linda
Please contact Linda Directly  07784 372415     http://lindamorgan.co.uk/
Details
Linda has been practising gentle forms of yoga since her late teens and has found it invaluable for looking after her body; re-balancing issues caused by scoliosis.  Yoga has also been instrumental in shaping the way Linda views the world and helps her to maintain a mindful way of life regardless of what life throws at her.  Linda completed her yoga teacher training with Zenways in 2015 and has been teaching classes and delivering workshops in various settings since then.  Linda is also trained in Mindfulness, meditation and relaxation and mindfulness based CBT. 
Zen Yoga is a traditional eastern style of yoga, based on mindfulness practices, aiming toward finding space within body and mind.  This style of yoga is less about forcing the body into specific shapes and more about finding ways to gently explore where you can find your own inner alignment.  There is a strong emphasis on breathwork, relaxation and releasing of physical and emotional tension.  Classes often include work to strengthen meridian lines within the body and bring energy to and balance the 7 major chakras or energy centres.  It is advisable to bring along a cushion/pillow and blankets/warm layers for the relaxation at the end of the class.  Suitable for all ages and abilities, whether you have ever experienced yoga before or not you will find a warm welcome.
Flow Yoga with Cassie
Contact Cassie directly 07814 128683   info.skiptonyoga@gmail.com
Details
Good Morning Flow is on a Tuesday at the beautiful space, Fire House Studios.  Class will start promptly at 10:00.  This class is building strength, gaining energy and feeling good.  A flowing yoga class with moments of stillness alwasy finishing with shvasana (relaxation).
Beginners are very welcome.
Where
Skipton (Fire House Studios)
Cost
Pay as you go £8
Class pass £65 – 10 classes to be used within 4 months
NEW STUDENTS Class pass £55 – 10 classes to be used within 4 months
Please reserve a mat if you wish to borrow
Iyengar Yoga with Carol Young
Contact Carol directly 07837 918016   activecarol@gmail.com
Details
My yoga teaching has a focus on posture and alignment, exploring possibilities for all people with all levels of practice and 'difficult' bodies. As well as the physical gains in flexibility, stability and strength this yoga practice develops inner focus, greater awareness, and a deep sense of relaxation, all relevant to managing the demands of modern day living.
I am a Junior Intermediate Level 1 Iyengar Yoga teacher with a physiotherapy background and have been teaching since 2002.
Iyengar yoga classes generally start with simple poses and gradually progress towards more advance poses, ending with a period of relaxation often incorporating breathing techniques.
Props such as blocks and belts are sometimes used in class to allow those with less strength or flexibility to work correctly and achieve their full potential.
At Fire House Studios I take monthly 2.5 hour extended practice classes, normally on the 3rd Saturday of the month.
Where
Skipton (Fire House Studios)
Pre and Post natal exercise classes
Coming soon! Gentle exercise classes for expectant mums, and new mums.
Payment
All classes or sessions can be paid for by cash, cheque, or instant bank transfer and pingit.
Sorry, no card payments accepted.
Get in touch
Ask a question, book a place or chat through options
Email Heather
Call 07814 887071
Timetable